Natural fiber fabrics for clothing are finally carving out their space in the world of fashion The world of fashion is fascinating and full of color: multiple realities coexist, and it can be stimulating and very creative.
However, emissions from the fashion industry represent 10% of global emissions, and it is therefore necessary to find sustainable and more ecological alternatives to those that most brands usually use, such as natural fiber fabrics for clothing.
One way to limit pollution is to make sustainable choices when it comes to choosing the materials used during their production, especially fabrics.
From this need to become more and more sustainable comes the decision to choose natural fiber fabrics, such as organic cotton and hemp. Natural fiber fabrics have several benefits, including that of allowing the skin to transpire and absorb body moisture, keeping it drier.
What is organic cotton
Cotton is a fabric made from the wool of the seeds of the cotton plant, and has been used for thousands of years for its many qualities. Some of them are its' versatile nature, its lightness: moreover, cotton is breathable and soft, and it has a good resistance to abrasion.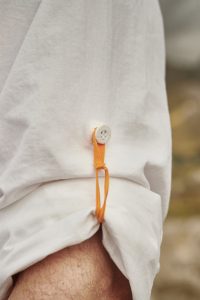 With the advent of new technologies, the cotton agriculture has become one of the most polluting. It involves the use of many pesticides, fertilizers and chemicals, that cause pollution of groundwater and lower soil fertility. All this has made the cotton culture less and less sustainable.
Organic cotton, unlike normal cotton, is instead planted in rotation, allowing the soil not to lose its salts and is a natural fiber fabrics . Also, no pollutants are used when growing GOTS certified organic cotton. This certificate guarantees that the cotton is not only non-GMO, but that the clothing made from organic cotton are hypoallergenic and do not irritate the skin, even the most sensitive!
Hemp for fabrics
The hemp fabric is an extremely natural fabric: it is in fact capable of growing practically anywhere. It is considered as an ecological textile fiber, since its cultivation does not require special pesticides or fertilizers, as it grows very quickly. Like all natural fiber fabrics, hemp fabric is very fresh, therefore particularly recommended during the warmer seasons. It is also extremely breathable and absorbent.
Natural fiber fabrics are the most recommended during the summer season for their fresh and breathable properties. However, we must not forget also their characteristics of environmental sustainability and their other qualities, which are fundamental in the choice of ProtoXtype fabrics, like the one used for our men's shirt in organic cotton and hemp and our women's shirt in organic cotton and hemp.