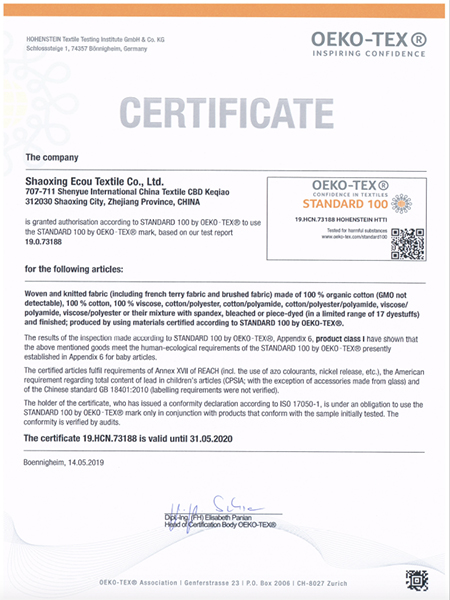 OEKO TEX
OEKO TEX is a single control standard in the textile sector. It allows you to identify which products do not contain harmful substances and are therefore suitable for use by the consumer. Tests are carried out on any harmful substances, including:
Substances prohibited by law;
Substances whose use is regulated by law;
Chemical substances that are harmful to health (even if not regulated by law).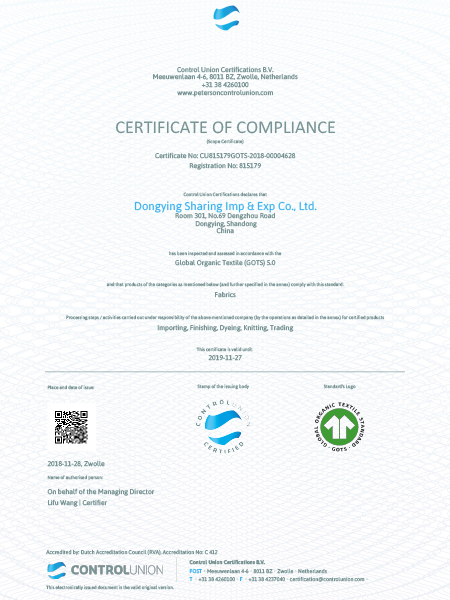 GOTS (Global Organic Textile Standard)
GOTS is an international standard used for the certification of natural fibres. This certification includes various environmental and social criteria, including:
Prohibition of using toxic heavy metals, formaldehyde, aromatic solvents, functional nanoparticles, GMOs and other enzymes
Prohibition of using chlorine-based bleaches
Prohibition on the use of azo dyes
Prohibition of contamination of the soil, groundwater and atmosphere
All operators must respect an environmental protection policy with precise objectives and procedures aimed at reducing consumption and discharges to a minimum
Waste water from all wet processing units shall be treated through a functional water treatment plant
Prohibition of forced labor
Freedom of association and right to collective bargaining
Health and safety in the workplace
No exploitation of child labor
Adequate wages to guarantee dignified living conditions
Not excessive working hours
Regularity of hiring