Leggings are an extremely versatile item of clothing, suitable for many occasions: there are those who use them for sports, such as dance, pilates or a normal session at the gym, those who love to wear them during their outdoor activities and those who prefer to wear them for their everyday life, or just to relax in front of the TV.
At ProtoXtype we care a lot about the quality and comfort of our garments, and we have created leggings in two different suitable materials for different activities.
Woman Organic cotton leggings
Our Woman organic cotton leggings are made with a GOTS (Global Organic Textile Standard) certified material, and therefore they are not only extremely sustainable, but this certificate guarantees that the fabric has no harmful agents.
3D Woman Leggings in Organic Cotton
Organic cotton leggings are hypoallergenic, breathable, antibacterial, lightweight and super soft.
They are the ideal leggings for relaxing activities, such as yoga, stretching or an outdoor walk. Very comfortable and versatile, these leggings are suitable for everyday activities.
Woman Polypropylene leggings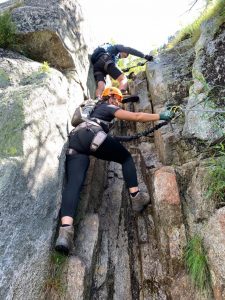 ProtoXtype Woman polypropylene leggings are Oeko-tex certified, completely free from artificial substances and therefore sustainable both for the environment and for the most sensitive skins.
Polypropylene Woman Leggings Outdoor 3D
Among the characteristics of these leggings there are some very interesting ones: they are antibacterial and abrasion resistant. In addition, they do not absorb liquids and dry very quickly, maintaining body temperature.
These polypropylene leggings are ideal for more adventurous activities, such as climbing, trekking, skiing and all kinds of sports and excursions.
All of our ProtoXtype Woman leggings are built on three-dimensional paper patterns, to ensure more comfort and the greatest possible freedom of movement. Let yourself be amazed by the quality and remarkable properties of ProtoXtype leggings, you will not regret having chosen them for all your adventures!