L'Europa è un continente ricco di nazioni, luoghi, terre da scoprire e vivere in ogni loro essenza e mete più ambite per diverse tipologie di viaggio sono proprio le capitali europee. Che siano città d'arte, cosmopolite o ricche di movida, le capitali europee hanno un fascino unico al quale è impossibile resistete. Dunque zaino in spalla e mappa in mano ecco come affrontare i viaggi in Europa, che siano brevi weekend o tragitti on the road.
In questo articolo Consigli di Viaggio, noi di ProtoXtype vogliamo raccontarvi (e consigliarvi!) la più ecclettica e suggestiva città della Germania, ovvero Berlino. Intrisa di storia (soprattutto moderna) amata dai giovani di tutto il mondo, Berlino ha in sé tutta l'anima e lo spirito tedesco da vivere e scoprire. Eccoci dunque inoltrarci, con i nostri Consigli di Viaggio, tra le bellezze di Berlino.
Discovering Berlin
BERLINO: Capitale della Germania, Berlino non ha bisogno di grandi presentazioni. Ogni anno di per sé attira milioni di visitatori per numerosi motivi ed è inoltre uno dei più importanti centri politici, culturali, scientifici, fieristici e mediatici d'Europa. Il suo clima temperato fa sì che sia la capitale Europea ideale da visitare in qualsiasi momento dell'anno (e i nostri piumini termosaldati possono essere i vostri migliori alleati per questo viaggio!).
What to see in Berlin? The list would obviously be very long, but we limit ourselves only to a limited and necessary selection: the Biergarten, the Pergamonmuseum, Potsdamer Platz and the center of Berlin are just some of the sites that we recommend you visit. Obviously the most common destination in this remains the Berlin Wall. Although little is left of the original Berlin Wall, having been largely destroyed by locals or tourists, there remain three stretches where it still stands. The first is the Topography of Terror, formerly the Gestapo headquarters, halfway between Checkpoint Charlie and Postdamer Platz. The second, more well-known, is the open-air art gallery that takes the name of East Side Gallery. The third section has been partially rebuilt into a Berlin Wall Memorial. In any case, the route traveled by the wall remains marked on the streets of the city by a railway track.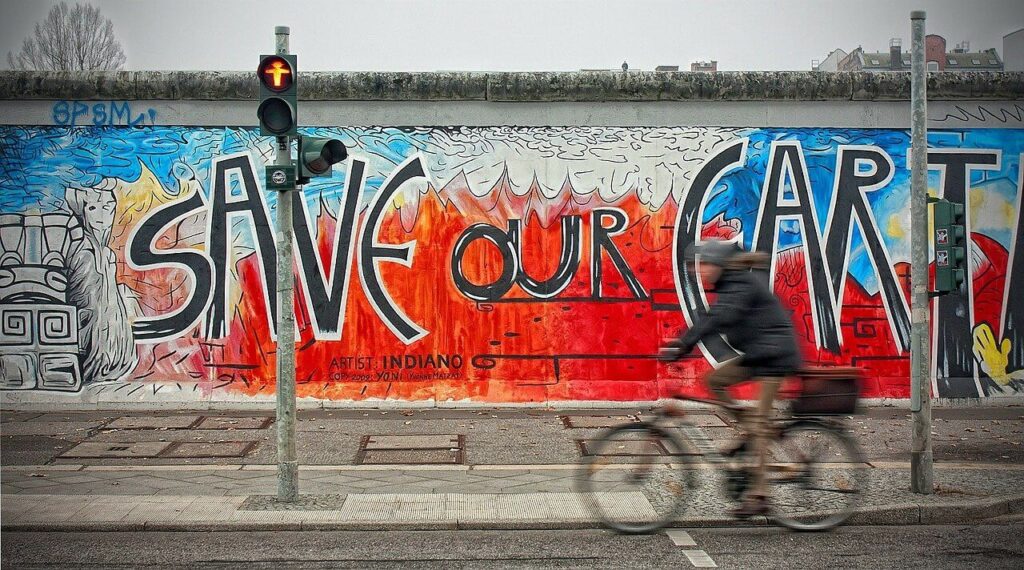 Less known but of exceptional historical and human value, is also the Checkpoint Charlie Museum, which collects the stories of those who lived in Berlin during those terrible years and those who tried to escape over the wall.
Se si fa tappa a Berlino, impossibile non assaggiare i suoi gustosissimi piatti tipici, dai deliziosi Doughnuts di Berlino, piccoli bomboloni ripieti di marmellata, alle Königsberger Klopse, una specialità prussiana fatta di polpette di macinato di carne di vitello, manzo o maiale, un po' di acciuga e una crema a base di vino e limone. Ovviamente il tutto accompagnato da birre superlative.
In short, Berlin is an unmissable stop for travel lovers and getting lost in its beauties will be a pleasure.