Christmas is one of the most loved and cherished holidays in Western culture, and has very ancient origins. It became a Christian holiday only around 300 AD, but for several centuries it was celebrated, in one form or another, by most European populations.
It has many aspects in common with the Saturnalia, a pagan holiday widespread throughout the Roman Empire, which fell at the same time as Christmas and included the exchange of gifts, as well as the interruption of work for every social class, even for slaves. The tradition of decorating trees during the winter solstice was instead handed down to us by the Celts.
Santa Claus Village
While the Christmas holiday has very ancient roots, the figure of Santa Claus is defined and becomes popular only in 1800. Inspired by the Saint Nicholas, Santa Claus is described with a red suit and a thick white beard, on a sleigh pulled by reindeer.
Several countries have contended for his home, but it has always been assumed that he must be located in the Arctic Circle. In 2010, it was officially decided where Santa Claus Village is located: in Rovaniemi, in the north of Finland. Since then, this town has been an unmissable destination for all Christmas lovers.
Rovaniemi is easily accessible from Finland's capital, Helsinki, both by train and plane. During our trip, we preferred to take the train, which allowed us to enjoy the beautiful landscape offered by Finnish nature in winter.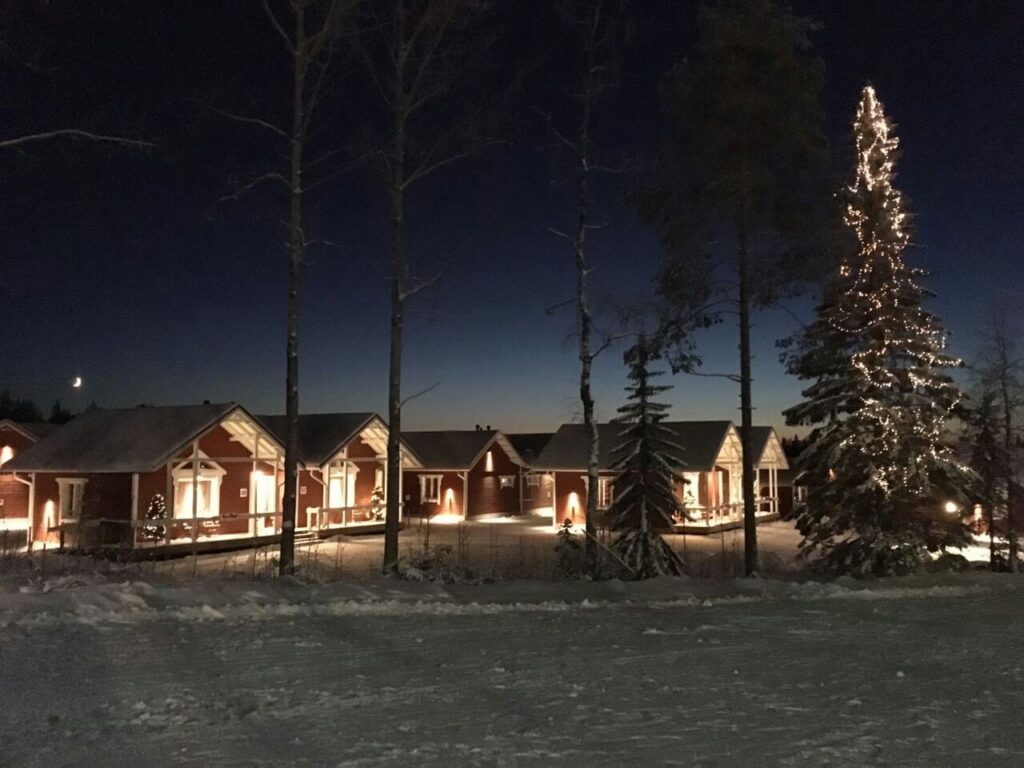 Rovaniemi is a city in Lapland, located on the Arctic Circle. From here, taking the bus line 8, it is easy to reach the village of Santa Claus.
In the Santa Claus village of Rovaniemi, it is possible to immerse yourself in a unique experience, in which the tales they told you as a child suddenly become reality.
Santa's elves bustle about everywhere, the landscape is snow-covered and illuminated by golden lights and decorated trees, and the air smells of Christmas cookies. Inside the village, there are several wood houses and kiosks, which sell sweets and knitted products. In the largest house, where you can meet Santa Claus himself, there is also a train. This allows you to visit the whole house and the factory, where the elves prepare and ship gifts during Christmas.
Outside, among the snow-covered pines and meadows, you can take a ride on sleighs pulled by beautiful reindeers and visit the entire village. Those who wish can even sleep in the village, in wooden houses next to the Santa Claus village. We decided to stay in an apartment in Rovaniemi, which is a very lively town in Lapland even in the middle of winter, with temperatures that drop to -30 degrees Celsius during the night.
However, the Finnish climate shouldn't scare you: with the right ProtoXtype clothes, it's easy to stay warm!
Now you know where is Santa Claus Village so you can grab your bag and start your journey.