Germany is perhaps not a tourist destination as popular as other the European countries. While we were on a business trip in the South Germany, we decided to make it a road trip to explore Bavaria.
Bavaria is the geographically largest region of Germany: it is located in the southwest of Germany, and it gathers the largest number of tourists, both for its natural and historical landmarks, but also cultural beauties.
But what can you see in Bavaria? Here are some of our suggestions:
Munich: We definitely recommend visiting Munich, the capital of this region of Germany. Monaco is a very colorful and lively city, picturesque and with many interesting corners. Marienplatz, Munich's main square, is definitely not to be missed, as is the Gockenspiel Carillon, one of the most famous carillons in the world: it plays and comes to life twice a day in winter, and three times a day during summer. Also do not miss a visit to the beautiful English Garden, one of the largest public parks in the world. Inside, there is also one of the most famous biergarten in Munich!
The castles of Bavaria: This popular region of Germany has plenty of castles and fortresses to visit. Among these, there are the must-see castles of Hohenschwangau and Neuschwanstein, both located near the town of Fussen and Lake Alpsee. Hohenschwangau Castle has an older history, as it was first mentioned in historical records in the 14th century, but is thought to have been destroyed and rebuilt several times. Neuschwanstein Castle, on the other hand, is much more recent: finished at the end of the 19th century, it was commissioned by Ludwig II of Bavaria, who was historically very important and died in mysterious circumstances! Neuschwanstein Castle is said to have inspired Walt Disney's castle.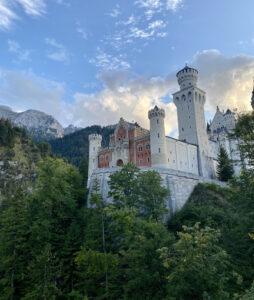 We strongly recommend that you book visits to castles and museums a little in advance, because it is very difficult to find a space to tour them inside without a reservation. For reasons of time, we were unable to visit Linderhof Castle or the Royal Palace, but we are told that they are both beautiful! As always, every time you travel, you have limited time, and you have to make choices.
For this trip, ProtoXtype recommends our wonderful hooded silk rain coat: this jacket is in laminated silk and will protect you from the wind and rain. The silk lamination of our jackets them waterproof and windproof, while remaining breathable. This jacket was built on a three-dimensional pattern, in order to guarantee maximum freedom of movement during your outdoor adventures!
What to eat in Bavaria?
As vegetarians traveling to Bavaria, there were very few local specialties that we could eat. In Munich, it is easier to find a compromise, being a large city that also offers different cuisines than the local one. But in the rest of Bavaria, we ate mainly potato dishes! And of course, we tried their famous strudel, which we loved!
Bavaria offers so many beautiful places to visit! Without forgetting the Oktoberfest, a very popular festival held in Munich between September and October.
Enter the alleys of Munich, celebrate at Oktoberfest or visit the beautiful castles of this region, which is really worth visiting.