ProtoXtype has a wonderful, unique item: a beautiful silk trench coat, a waterproof jacket for woman and man which is an essential piece for the autumn season.
Have you ever left the house with your dog on a gray and cloudy day, unsure whether it would rain or not, only to find yourself, after 15 minutes of walking, under a sudden rain?
That's why ProtoXtype decided to create this fantastic waterproof trench coat! This gar-ment is in laminated silk, and allows you to have an elegant look even on the most gray and rainy days.
This wonderful waterproof jacket is very light, but also windproof and very comfortable: when combined with a ProtoXtype down jacket it is resistant to cold and water up to -20ºC.
The design of this garment ensures high adaptability and practicality: from the adjustable windproof collar, to the 2 waterproof external pockets, 4 large internal pockets, and even a opening for the earphones, this waterproof coat is equipped for all your needs.
Not only silk trench coat
And for those who particularly suffer the cold and who need something warmer, ProtoX-type offers an equally beautiful and practical garment that will warm you even in the cold-est days.
ProtoXtype waterproof Silk Down Jackets will keep you warm even in the coldest tempera-tures, being waterproof, windproof and very warm. The padding is 90/10 down, one of the warmest and most performing filling on the market.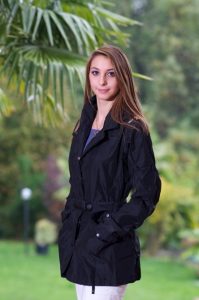 <
This waterproof jacket also has fantastic features: it is waterproof, windproof and elegant as well as very warm and soft.
Like all ProtoXtype clothes, this waterproof jacket is built on three-dimensional patterns to allow you maximum freedom of movement!
ProtoXtype's laminated silk garments are perfect for any occasion, from walks in the city to an evening out, to running your daily chores.
Elegant and versatile, they are truly extraor-dinary jackets, which allow you to dare and go out without an umbrella even on the gray-est days.