France, 17th century: the first tailcoats appear in the French courts, worn mainly by the nobles and the upper middle class. At this stage, the coat is an embroidered overcoat, with a long and tapered shape, which is part of the three-piece men's suit: it can be considered as the ancestor of the garment we know today. This piece of garments has the next stage of its evolution in England, where the well-known riding-coat was born, a distinctive sign of gentlemen, a coat without decorations, which spread throughout Europe with the name of Redingote. Over time, different models followed one another, from the Reglan coat in the nineteenth century, to the incredible transformations that the coat has undergone since the early 1900s. During the thirties, the most fashionable models had very important shoulders, while in the forties it becomes about squared lines, until the coat becomes a true fashion and style icon, inspired by Parisian Haute Couture and worn by Hollywood stars.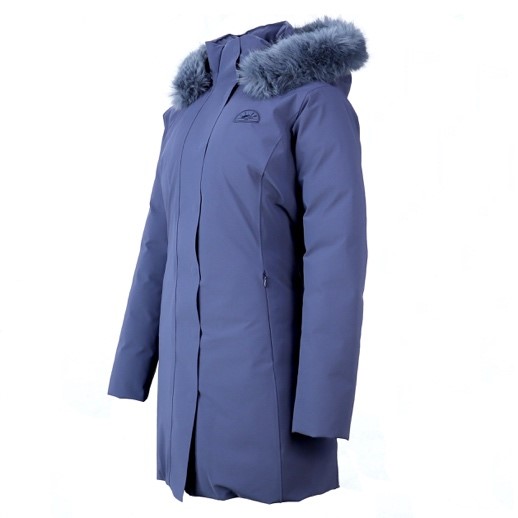 It was Christian Dior, in the 1950s, who reinvented the model making it a must in the modern and contemporary female wardrobe. The coat is an elegant and versatile garment: however, due to its lightness it is not possible to wear it when the temperatures are too low.
Well not anymore!
Today we present to you one of the newest and most beautiful items of the ProtoXtype's collection, our wonderful belted padded coat for women! You can wear our blue and white padded coat in the coldest temperatures: its construction and down padding make this padded coat perfect to wear, even during the coldest days of January.
Speaking of our sustainability, the down used in this coat and in all our jackets is RDS certified: this means that the ducks from which the feathers are taken from are not tortured, and that they grow in spacious farms.
This amazing garment is not only warm, but also water repellent and breathable, guaranteeing excellent performance. Suitable for any look, this extra long water repellent padded coat is built on three-dimensional paper patterns to allow you total freedom of movement and comfort. Available in two fantastic colors, white and blue!!!